Bucharest, June 24, 2020 – The prototype of the first train produced by Electroputere VFU Pașcani, part of the GRAMPET Group, undergoes the last stage of testing, this week.
The DMU (Diesel Multiple Unit) model has left the factory under its new appearance with traditional Romanian motifs from the national folk costume that, through their symbolism, represent the Romanian cultural heritage. The train will run these days on the railways in Moldova, also celebrating the National Day of Romanian Ia.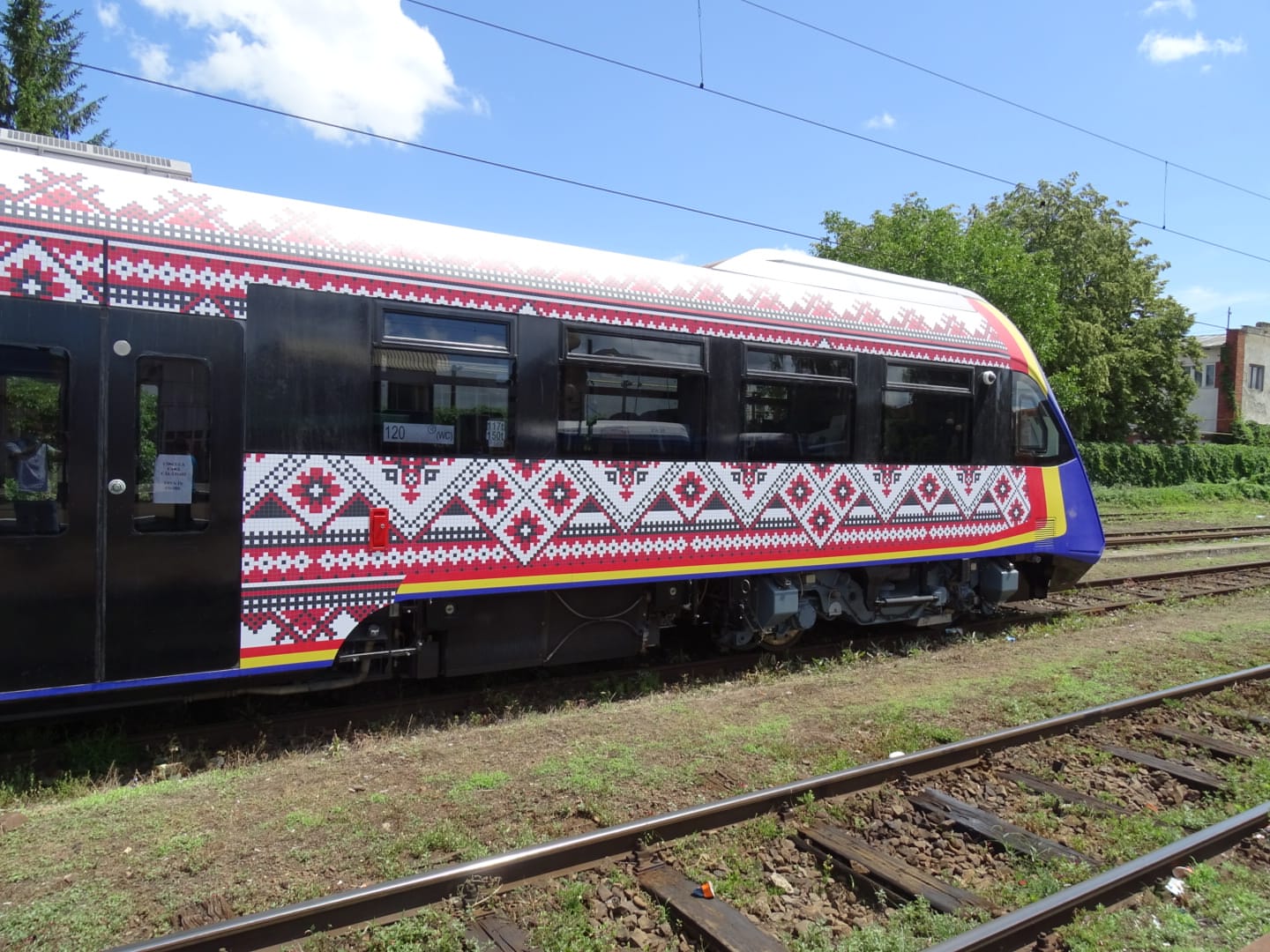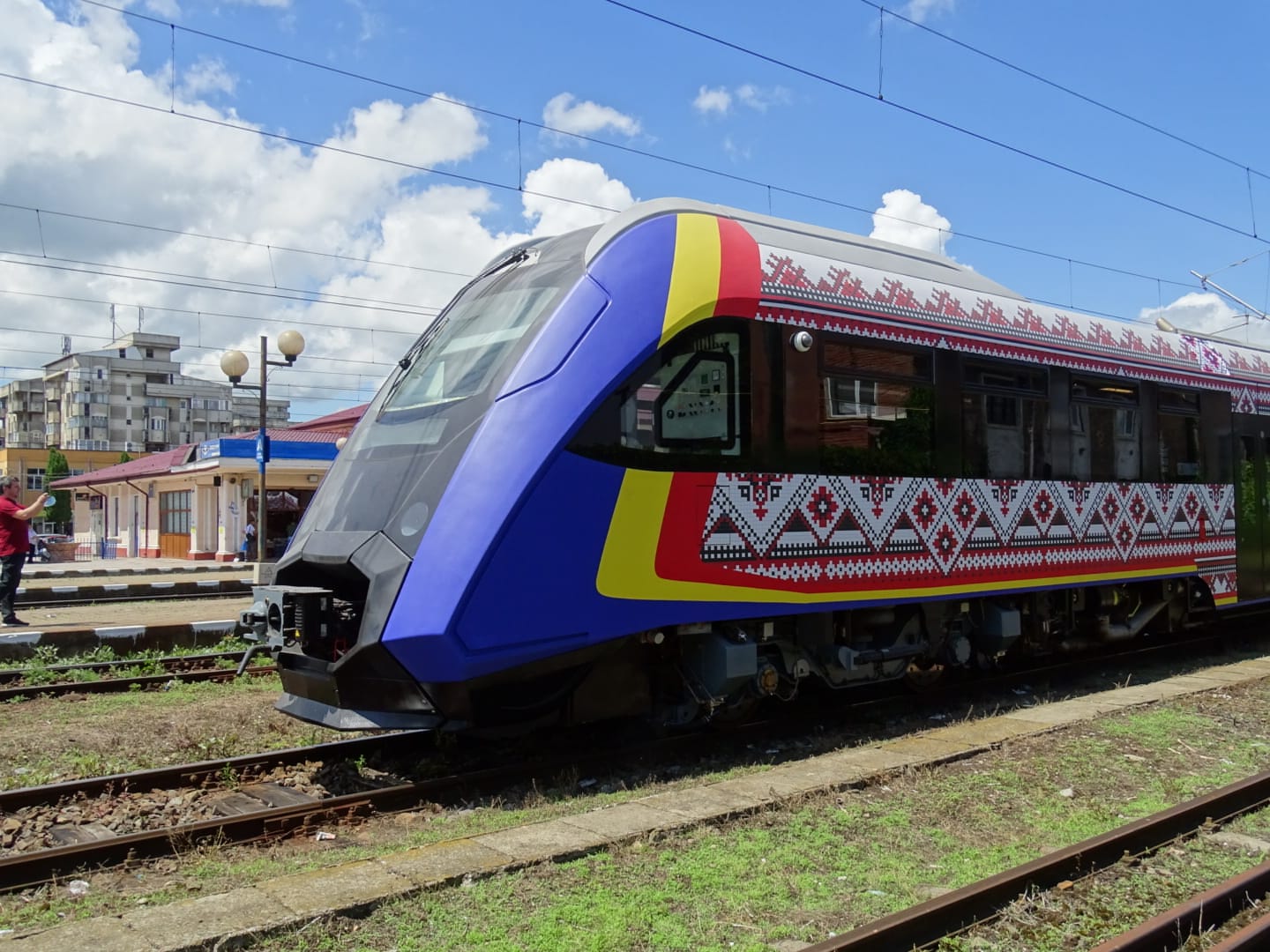 "The DMU train represents Electroputere VFU Pașcani's debut on the new railway vehicle constructions segment," says Gruia Stoica, President of GRAMPET Group, "and our choice for this visual identity aims to celebrate both the Romanian folk traditions and the tradition of the national railways industry, overall. Following its homologation, this model will be available for purchase in several countries in Europe and beyond, thus becoming a tool to promote the spirit and engineering craft in Romania."
Launched at the end of 2014, the DMU train was designed and manufactured in accordance with the European Union's railway standards, and can also be adapted to non-EU markets requirements. The prototype resulted from the work of more than 180 specialists from Electroputere VFU Pașcani.
The train is composed of both internally-produced parts and subassemblies, and also subassemblies from top manufacturers in Europe. It can reach a maximum speed of 120 km/ h and has a total capacity of 164 passengers in 1st Class (22) and 2nd Class (142) seats. Features include eco-friendly toilets, including units especially designed and equipped for people with locomotor disabilities or reduced mobility, air conditioning systems, Wi-Fi and power outlets, visual passenger information systems with screens indicating the destination, the next stop, times delay or other relevant information.
With a tradition of over 150 years, Electroputere VFU Pașcani is currently focused on high value-added activities, mainly the redesign, reconstruction and modernization of railway vehicles. Its portfolio consists of clients from Romania and abroad, more precisely Belgium and Gabon, for passenger cars and trams.
In 2019, the largest share of Electroputere VFU Pașcani's activity was represented by the railway vehicle modernization segment (approximately 68%), followed by the railway vehicle maintenance segment (26%) and the assemblies and subassemblies segment (5%). The factory currently has around 650 employees and the capacity to expand its activity to almost 5,000 workers.
About GRAMPET Group
Established almost 20 years ago, GRAMPET is today the largest private rail freight and logistics operator in Romania and Southeast Europe. Its 16-company structure is strategically designed to span the entire chain of rail transport solutions and products, thus offering clients an integrated experience at the highest level of competence: freight railway transport, building, repairs and upgrading of rolling stock, spare parts production, lease of rolling stock, freight transhipment, logistic services, as well as innovative IT solutions for railway operators.
With a declared objective to connect the Atlantic Ocean through the North Sea, to the Pacific, through the South China Sea, GRAMPET Group is one of the main drivers for the development of transport corridors that connect Europe to Asia.
Its flagship company Grup Feroviar Român (GFR) is one of the main rail freight operators in Romania and Southeast Europe. Currently, over 20% of traffic is international, with GFR offering complex logistic solutions to rail sector customers.
GFR is a member of all representative international organizations and has cooperation agreements with both state railway operators (BDZ Cargo, UZ, CFM, PKP Cargo, ZK, RCH, HZ Cargo, ZBIH) and private railway operators from Bulgaria, Hungary, Slovakia, the Czech Republic, Poland, Austria, and Germany.
The Group's companies Reva    Simeria, Electroputere VFU Pascani, Reloc Craiova, and Electroputere VFU Craiova account for an important share of the Romanian rolling stock repairing market
In parallel, the group has an intense research and development activity, aimed at developing technical solutions that provide clients with a transparent and real-time experience. In 2017, GFR launched the E-CLIENT GFR portal, a first for Romania and Southeast Europe, which facilitates the management of the traditional carrier – customer-company relationship, from posting of orders to service invoicing, while going through essential stages such as ordering empty wagons, drafting transport contracts, providing unhindered access to process information, intelligent alert systems for decision-makers, and automated reporting.